The fourth season of TV LAND's original show Younger debuted on 6/28/17. Yes I'm writing about a show on TV LAND. And much like TV LAND adapted to a younger audience (#ILoveLucyRerunsAreLife) the show Younger is about just that. Adapting. The show revolves around the 40-year-old Liza (Sutton Foster) who, after her stereotypical 40-year-old suburbanite life crumbles around her, tries to reboot the publishing career she abandoned 18 years earlier in order to raise her daughter. But no one wants to hire a 40 year old with no recent experience, so she pretends to be a millennial straight out of college. The only problem is now everyone expects her to know all about new cultural trends, social media, and, of course, where to get her boss the best responsibly sourced, hand-roasted coffee. The first three seasons have highlighted many of the difficulties Liza has faced as she tries to bridge the culture gap between her 40-year-old self and her new 20-something friends and colleagues.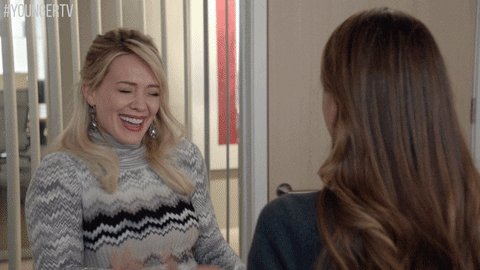 The center of the show is Liza's relationships with her new millennial friends and her older life-long friends. Especially her new friend and co-worker, Kelsey (Hilary Duff). Regardless of age friendships and relationships can be tricky and complicated. Friendships change as we do and that is okay. We will grow out of some friendships; we will find others. We will make new friends with people in similar life stages, and we will have those friends that we have known since childhood/high school/college that will feel like slipping into a warm pair of slippers after a long hiatus. The point is to accept the stage you are in and adapt to the situation. Making and maintaining friendships is much different in your late 20's than your early 20's and will continue to be different in your 30's and 40's. If you feel unsatisfied in your relationships, it may be time to reevaluate. Reevaluate if you are giving more than you can, having more taken from you than you can handle, or not receiving the same in return. 40-year-old Liza is adapting to the millennial age by learning to put herself out there again and to embrace new experiences. With new experiences come new opportunities and new friendships which ultimately lead to chances to grow and better ourselves. When we put ourselves out there more and are open to different opportunities, we have the chance to be more fulfilled and to lead more satisfying lives.
If you haven't watched Younger you can binge the first three seasons on Hulu or through the TV LAND app. Get caught up and leave your comments below!